who we are
Our History
Community InRoads' mission was inspired by Dr. Martin Luther King's sermon stressing that "a true revolution of values will soon look uneasily on the glaring contrast of poverty and wealth" in our country. It was founded by the Rev. Lee Bluemel and the North Andover North Parish Unitarian Universalist Church's social justice committee, in order to help address profound social inequities in Greater Lawrence.
In the fall of 2006 the organization expanded from a church-based program modeled after Jericho Road Project in Concord, Massachusetts to a separate tax exempt not-for-profit incorporated under the name "Jericho Road Lawrence." Since then, our programs and services expanded from volunteer professional match making to include educational and leadership programs, and a Grant Resource Center in partnership with Northern Essex Community College.
After ten years, in order to more intentionally address social justice issues in our local community, we ended our affiliation with the Concord-based Jericho Road Project and changed our name to "Community InRoads." With this change, we also opened our doors to Haverhill, Massachusetts.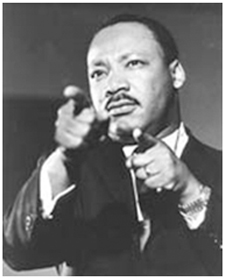 "A true revolution of values will soon look uneasily on the glaring contrast of poverty and wealth."
- Rev. Dr. Martin Luther King
The need
Lawrence and Haverhill are both underserved cities in contrast to the abutting communities which enjoy a median household income well above the state average. It is this profound disparity that drives Community InRoads' mission to partner and support nonprofits serving the Lawrence and Haverhill area by providing them with pro bono professional expertise. Our goal is to empower and contribute to the capacity and gifts of the residents living, working and studying in the community by fostering a sustainable network of effective nonprofits dedicated to social justice and economic equality.
Recognition and Awards
Our work within the community has been widely recognized by local media, as well as our nonprofit clients and partners.
Recognized by Lawyers Clearinghouse at their annual meeting in Boston for providing outstanding pro bono services to the Lawrence nonprofit community
3 Community Partner Awards
3 Volunteer of the Year Awards
Woman of the Year Award presented to our Executive Director for our work within Lawrence
Quota International of Lawrence's Nina Scarito Leadership Award presented to our Executive Director on behalf of our work in the Lawrence community
Asperger Works Award presented to our Program Director
Covered by the Boston Globe, the Eagle Tribune, Merrimack Valley Magazine, the North Andover Citizen, Rumbo, UU World and WCCM radio.
MassInc. Gateway Cities Innovation Award for our Cultural Inclusion Program