success stories
Bread and Roses Housing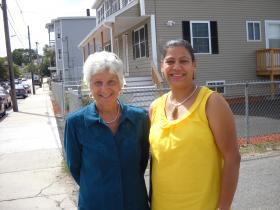 At a time when so many working families in Lawrence have lost homes to foreclosure and quality rental options are declining, BRH creates extremely affordable homeownership opportunities for very low income households, empowers Lawrence families as neighborhood leaders, and improves areas of the city most affected by the current housing crisis.
This wonderful charity has received a broad spectrum of pro bono professional assistance from our volunteers, ranging from the creation of presentation material to help potential first time home buyers learn about BRH's services, assistance with implementation of their bookkeeping software, research and analysis of the local foreclosure crisis, the purchasing of new computer and hardware, marketing material and the creation of a database to efficiently manage their supporters.
"Time after time, the assistance provided by Community InRoads has been perfectly matched to our need. The professional hours donated comprise a significant contribution to our work and mission."
- Mary Marra, Executive Director
Delamano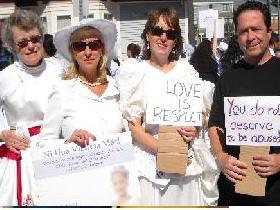 The stress of a downward economy has been accompanied by a sharp rise in domestic violence. The nonprofit, Delamano, operates a Spanish/English hotline in Greater Lawrence. They provide victims of domestic violence with access to emergency shelter, advocacy, support and counseling so that they can move on with their lives.
As a fledgling charity, our volunteers have guided this important, dedicated organization through their business and financial planning, provided them with advice on insurance requirements, a marketing brochure and logo, a web site, public relation consultation, and grant research and writing assistance.
"….because of Community InRoads (formerly Jericho Road Lawrence) volunteers, Delamano remains in existence today. In Delamano's case, because of (you), many lives will be saved."
- Mary McAlary, Executive Director
Esperanza Academy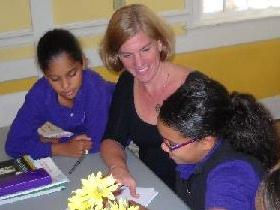 Facing the challenge of a 41% drop out rate and the highest early teen pregnancy rate in the state, Esperanza Academy - provides a free, quality education for low-income middle school girls. The energy and utter joy in this school of hope is palpable the moment one enters the building. It is fueled by a supportive teaching staff that truly believes Lawrence youth is undiscovered talent. The educational program is rigorous and the student gains are truly impressive.
Just a few short years ago when the school was a dream fueled by a bright, dedicated Board of Trustees, Esperanza reached out to us for the creation of marketing material to help them secure the necessary funding to establish the school and to advertise their offering to the Lawrence community. Since then they have also received professional computer training for their staff plus a facilitator to guide them through the creation of a plan to keep their teachers and students technically current and competitive.
"Jericho Road" (now Community InRoads) "is an amazing partner!! We simply would not have been able to accomplish what we did without them! The quality of our ...volunteers is nothing less than examples of true artists and professionals. We never could have afforded to pay for their services outright, but through you the playing field has been equalized."
Lazarus House Ministries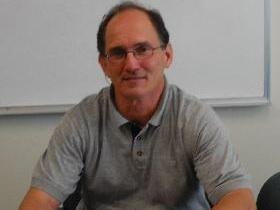 Lazarus House truly is a life line for the men, women and children who struggle in Lawrence by providing their guests a continuum of services, including but not limited to food, shelter, clothing, advocacy, job training, medical and dental care.
Over the years we have had the privilege of matching them with Community InRoads volunteers who have offered their skills and professional consultation on human resource procedures, grant research to fund the expansion of their dental program, retail assistance to improve the visual appeal and efficiency of their three thrift shops, and the creation of a database to save their staff countless hours and money managing Project Bethlehem, their special program to help make the Christmas wishes of over 800 families come true.
"By partnering with Community InRoads, Lazarus House has been especially blessed to receive the expertise and generous spirit of giving in the community. Our projects with Community InRoads have enabled us to utilize our limited resources more efficiently and effectively to meet the growing needs in our community."